John Rogers (d.c.1555), Citizen and Clothworker, bequeathed property in Walbrook (in the parish of St. Mary Woolchurch) and Bucklersbury (in the parish of St. Mary le Bow) to the Company in his will, dated 5 March 1551.[1] He served as the Company's Quarter Warden from 1546-47, but was never Master. He was married to Joan, and had no children. His will suggests a strong link to Yorkshire, and it most likely that he was born and lived his early life there before moving to London. He had three brothers, Richard  of Harthill, Yorkshire; John of Wales, Yorkshire and William of Woodall, Yorkshire.[2] He also had two sisters, Isabel Rede and Margaret Belch, and a wide family circle of nephews, nieces and cousins, many of whom he remembered in his will.[3] It is probable that he lived in the parish of St. Swithin, Walbrook Ward, where he granted lands to the Company. A John Rogers was cessed at £6 in the ward in 1549, while another reference to an assessment of £200 on a John Rogers appears in Cripplegate in the same year.[4] In his will, Rogers requested that he be buried in the location that his executors felt was most appropriate.
Rogers served his apprenticeship under Richard Cox, and being made Free in 1545.[5] He subsequently acted as Master to four apprentices: John Hewett, Free  in 1553; John Ashby, Free in 1556, Edward Ashby, Free in 1561; and Thomas Osmotherley, Free  in 1563.[6] He took an active role in the Company, not just as Quarter Warden, but also in overseeing of the Company's lands. In 1550, he is recorded as having the oversight of the writings relating to lands the Company had recently sold.[7]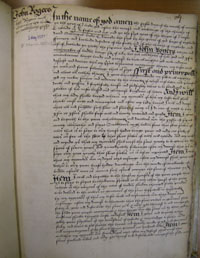 His attachment to the Company is borne out in his will.[8] He gave The Clothworkers' Company ten pounds for a dinner at the time of his funeral, with directions that any unspent money should be put into the Company poor box. His major grant, however, was four houses or tenements in the parish of Our Lady Woolchurch Hawe in London. He directed the Company to use the rental incomes for the continued upkeep of the property, and to distribute the remaining money amongst poor members. He made further property bequests to his wife Joan in the parish of St. Martin in the Vintry, which he instructed should pass to his nephew William, following her death; and to his nephew Richard Rogers in the Manors of Manby and Abingham in Lincoln. Other financial bequests concerned the purchase and distribution of coals to the poor; scholarships at Oxford and Cambridge (towards which he left 100 marks); sums of money to his siblings and nieces and nephews; and plate, jewels and other materials to a wide network of  relatives, friends, and associates. He appointed his fellow Clothworkers Nicholas Smalle and Phillip Bolde, as his executors.