Michael Parlor (d. c.1603), Citizen and Clothworker, bequeathed a house in Garlick Hill (in the parish of St. James) to The Clothworkers' Company by his will of 1 October 1603.[1]  He never married, but did have a wide family network dispersed across the country, including a sister, Marie, in Nottingham and a cousin, Hugh Parlor, and his family in Plumstead, Kent.[2] In his will, Parlor expressed a desire to be buried in the parish church of St. Benet Fink, on modern Threadneedle Street, of which he was a parishioner.[3]
Parlor became Free of The Clothworkers' Company in 1567, by servitude to Thomas Northopp.[4] He went on to be a Master in his own right with six apprentices receiving their Freedom by servitude under his direction. These included Richard Barlyn and Edward Stephenson in 1586; William Robinson in 1587; Samuel Bridges and Milo Stevenson in 1594; and Galfrey Lewys in 1603.[5] There is little indication in surviving records as to how Parlor gained his wealth; however,  the level portayed in his will is suggestive of tradiing and mercantile activity.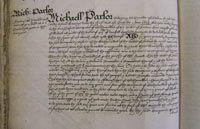 By his will, Parlor made several bequests of goods and monies. He gave forty shillings to the poor children of Christ's Hospital and twenty shillings to the relief of prisoners in the two compters in Poultry and Wood Street. He also granted 20s to be distributed amongst the poor people in the parish of St. Benet Fink. [6] He made several bequests of gowns to family, friends and servants. These included gowns to Edward and Francis Parlor, the sons of his cousin Hugh in Plumstead, Kent, and his maid, Elizabeth Grice. He also disbursed money and rings to close friends such as the Clothworker, Gerard Ward and his cousin, Maurice Pickering, who lived in Westminster. [7]
Parlor made two bequests to The Clothworkers' Company. He instructed his executors that the Company should receive one nest of silver bowls, all covered with gilt, the value of twelve pounds. These were to be delivered to the Company within one month of his death.[8] In his second bequest, he gave the Company a tenement in Garlick Hill, in the parish of St. James Garlickhithe, in which Richard Stackey was the current tenant. He stated that he held the property in fee simple, and that he transferred it to the Company with all the reversions, deeds and writings concerning the same. [9]
Parlor set a number of conditions with the latter bequest. From the rents of the tenement, he instructed the Company to provide gowns of black frieze, a strong canvas shirt and a pair of shoes annually, to six poor men Free of the Company. These were to be distributed on the feast of St. Michael the Archangel. If the Company should fail to fulfil this condition, he stated that the property would revert to Edward Parlor, his cousin's son. [10]
From his will, it is obvious that Parlor held a large number of properties in the City. In addition to the tenement at Garlick Hill, he made bequests to Edward Parlor of a messuage or tenement known by the sign of the three lambs in Candlewick Street, a tenement in Bell Alley and a tenement at the north end of Finch Lane. He also granted Edward's brother, Francis, a tenement in Thames Street, and made provision that should either man die without issue, the properties should pass to the next legitimate and surviving heir. Parlor also divided his remaining money and goods between both Edward and Francis.[11]