Born c.1490, Margaret, Countess of Kent (d.1540)  was the daughter of James Finch, Citizen, Shearman and Merchant, and a benefactor of The Clothworkers' Company. Margaret became individually wealthy through both her father and several beneficial marriages. In his will, her father, James Finch stated that he intended to pay his daughter a portion or annuity during her life.[1] Margaret also married three times. Her first marriage to Oliver Curteys, from London, appears to have been relatively short. In his will, Oliver bequeathed the remainder of all his goods, following the payment of any outstanding debts and funeral bills to Margaret.[2] Furthermore, he left her two messuages and tenements with seventy acres of land and other ancillary lands in the parish of Thurrock Grey, Essex, for her own use during her lifetime. She later married John Dawes, Grocer and Alderman of the City of London, and they lived in Farrington Without in the City of London.[3] Dawes passed away in 1514. Her final marriage elevated Margaret to the title of Countess. She married Richard, 3rd Earl of Kent on 23 January 1521.[4] In preparation for her marriage, she is recorded to have purchased '12 ells of Holland cloth', as well as ribbons and a frontlet of gold.[5]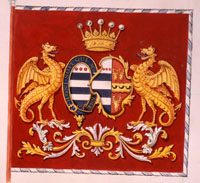 Details of the marriage agreement survive.[6] The Earl settled lands to the value of 300 marks on his new bride, while she brought a dowry of 2,000 marks to the marriage. Half of the dowry was to be paid by the following Pentecost; while the other half was agreed to be used towards the redemption of lands and manors sold by the Earl.  The marriage appears to have been quite advantageous for the earl who was a noted gambler with high debts. Such was his reputed poverty that David Wickham wrote 'his property was so paltry that King Henry VIII is said to have suspended the earldom for want of a competent estate to maintain it'.[7] Margaret's third marriage brought her into the Court circle, where her husband was very much favoured, being present at a reception for Charles V, and a witness to the Treaty of Windsor.[8] Richard, Earl of Kent, died on 23 May 1523, and was buried at Whitefriars, Fleet Street.[9]
Following Richard's death, Margaret continued to maintain a place within the Court. She is noted within the Letters and Papers of Henry VIII, as a recipient of a New Years' Day award of somewhere between ten and forty shillings in 1529.[10] She was also present at the baptism of the Princess Elizabeth, and later became a servant of the Lady Mary in 1538.[11] It appears that through her successive marriages, Margaret gained both interests in, and ownership of, numerous properties within and without the City of London. She sold her interest in the manor of Little Hormead, Hertfordshire on 12 July 1540, while she disposed of property in Queenhithe (in the parish of St. Michael) and Fenchurch Street and her interest in Whitefriars (in the Precinct of Whitefriars), by deed of 14 July 1538.[12] She died on 5 December 1540. She was buried in the Church of the Whitefriars, Fleet Street, alongside her third husband, Richard, earl of Kent at her specific request.[13]
I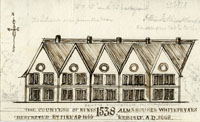 n her will, Margaret reiterated her previous bequest of property to The Clothworkers' Company, stating
'I bequeth & devise all my lands & tenements in London to the Master & Wardens of mystere of Clothworkers in the Citie of London ... maynteyned conteyned contynually by the wardens & felisship of Clothworkers of the Citie of London of the rents reuennues & profyts comyng and growing of my said Lands & tenements in ffanchurchestrete and Quenehith of London'.[14]
She made specific provisos that the Company should maintain an almshouse for poor women and grant them stipends from the rental profits arising from these lands.