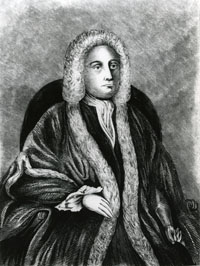 John Heath (d.1641), Citizen and Clothworker, is principally remembered for bequeathing money to The Clothworkers' Company to purchase lands for almshouses in his name. Heath was elected to the Livery of The Clothworkers' Company on 24 October 1614, and served as Quarter Warden for the year 1632 to 1633.  During his time, Heath played an active part in the day-to-day activities of the Company, and was frequently recorded in the Company's Court Orders as a viewer of properties.[1] He lived in the parish of St. Giles without Cripplegate. He was married to Mary, and possibly had two daughters; he mentioned two sons-in-law in his will, John Hill and Leonard Tyfe, but did not name his daughters.[2] The Clothworkers' Company's records note Heath's burial in St. Christopher le Stocks parish church on 11 May 1641.
Two possible dates for John Heath's Freedom exist. The Company's Freedom registers record a John Heath made Free in 1594 by servitude to William Smith as master. Another John Heath waand another made Free in 1610 by servitude to William Harris.[3] The first John Heath bvecame a Master in his right, being recorded in the Freedom record of a Matthew White in 1614.[4] This is the only reference to John Heath as a Master in the Company's membership records. It is therefore likely that Heath's careet and money, was made in trade and mercantile activity.
John Heath became a significant benefactor of The Clothworkers' Company in 1635, when he gave the Company £1000 for charitable purposes.[5] In an indenture, dated 2 December 1635, Heath made an agreement with the Company to give them £1000, paying fifty pounds annually. The Company, in turn, agreed to pay the money to a number of charitable causes.[6] Heath requested that the Company pay thirteen shillings and four pence to a minister to make a sermon on the day of his burial.[7] The Company also undertook to purchase woollen and linen cloth to make thirty gowns, shirts, smocks, stockings and shoes for thirty poor men and women.[8] The Master and Wardens were to receive three shillings and four pence and the Livery six pence each to attend the sermon in his name. The Clerk of the Company was also to receive three shillings and four pence, and the Beadle, two shillings and six pence for their attendance.[9] The sexton of the chosen church would receive twelve pence. Heath directed the Company to establish two exhibitions in his name at Oxford and Cambridge, both to be valued at fifty shillings.[10]
In his 1640 will, Heath made several further bequests to the Company.[11] He granted them forty pounds to be used to purchase a basin and ewer with his name engraved upon it. He also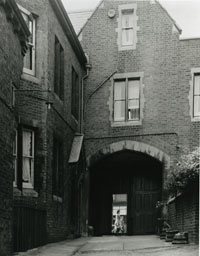 granted the Livery thirty pounds for a dinner on the day of his burial.[12] His main bequest, however, was of £1500. He expressed his desire that £300 of this money should be used to build and erect five tenements of brick for almshouses in his name.[13] The Company erected these in Islington. Heath instructed the Company that each tenement should contain two rooms. The remaining money was to be used to purchase lands or tenements in fee simple, with an annual value of sixty pounds.[14] He directed the Master and Wardens of the Company to select ten poor male Clothworkers to occupy these tenements or almshouses during the later years of their life. The rental income from the lands would be used by the Company to support these almsmen and to maintain the properties.[15]