William Gardiner (or Gardyner) (d.c.1480), Citizen and Fishmonger, is the earliest known property benefactor of The Clothworkers' Company or its predecessors.  Little is known of Gardiner's early life, and the only traceable family connection is that his brother was Richard Gardiner, an Alderman of the City of London. A William Gardiner is noted twice in the Close Rolls in 1460 and 1464. In 1460, Richard Gardiner, a Citizen and Merchant of London passed all his goods, chattels and debts to William Gardiner, Fishmonger and Robert Skrayngham, Mercer, Citizens of London.[1] In 1464, Joan Crouche, the widow of Thomas Crouche of Watford, passed a charter with a warranty of a messuage in Watford to Gardiner and Thomas Crouche, both Fishmongers. Joan's husband, Thomas, had held the property jointly with William Sherman under a grant from Henry Magoth of St. Albans, Thomas Laneham and John Gregory.[2] William Gardiner's only surviving will does not, however, make reference to these properties or goods, suggesting that they may have been bequeathed, or indeed, his interest sold, previously.
Gardiner made his will on the 23 March 1480, and appointed both his wife, Margaret, and his brother, Richard, as executors.[3] This will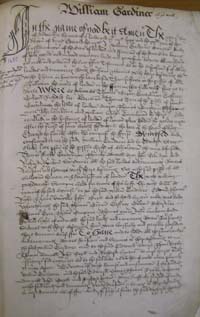 relates only to his property at Haywharf Lane, Thames Street (in the parish of All Hallows the Great). No information survives as to his material or monetary wealth, so it appears that much of his wealth was directly tied to his property portfolio. The property appears to have come into his hands by virtue of a demise, and later by deeds of release. Gardiner noted that he, along with a number of other prominent Londoners, gained possession of the property by a grant, and deed, enrolled at the Court of Hustings, by Thomas Bryan, gentleman; Geffery Boleyn; Richard Lee, Alderman; Thomas Eyre, Draper; Thomas Burgoyne; Thomas More; John Lamborne and William Light, gentleman. Through the deaths of his co-grantees and subsequent deeds of release, Gardiner gained sole control of the Haywharf Lane  property.  In his will, he bequeathed this to his wife, Margaret Gardiner, to remain in her hands until she remarried or failed to keep an obit in his name. If either occurred, Gardiner instructed that the properties were to pass to the Company of Fullers.
The bequest to Fullers came with specific instructions that they were to use the monies generated from rents to pay the specific bequests in his will, including his obits and masses in the Friary of St. Augustine and the parish church of All Hallows, and continued repairs and maintenance of the lands and tenements. Gardiner gave detailed instructions regarding these property repairs. He stated that if the Company failed to undertake any necessary renovations to the properties within one year of them falling into disrepair, then the Company would be warned by the Chamberlain of the City. If they continued to fail to repair them, he willed that the bequest would become void, and the properties would pass towards sustaining the water conduits in the City. The Haywharf Lane properties remained in the possession of The Clothworkers' Company until the nineteenth century, when they were sold.
[3] The Clothworkers' Company Archive, 8 All Hallows Lane Estate Records, Estate/38/1A/1, Will of William Gardiner, 23 November 1480.