Stephen Lound (d.c.1520), Citizen and Fuller, bequeathed property in Fenchurch Street and Billiter Lane (in the parish of All Hallows Staining) to The Fullers' Company.  Little is known of his life and career beyond the information in his will, dated 4 April 1528.[1] He was married to Maud, who had a son, Richard Gibson, from a previous marriage. His will notes at least one brother, Robert Lound, Clothworker, and three sisters, Sibil, Agnes and Joan Walthim, who lived in Yorkshire. His will also stipulated that he should be buried in the middle of the body of the Church of Saint Martin Outwich.[2]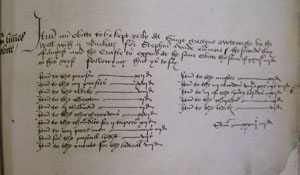 In his will, Lound made a number of financial and clothing bequests to his family and associates. He gave thirteen shillings four pence to the parish church of St. Martin Outwich, of which he was a parishioner, to pay for forgotten tithes. His stepson, Richard Gibson, received a gown and a doublet of velvet and satin, while he bequeathed his second gown, with fur, to his brother Robert Lound. His sister Sibill received a gown of cloth at 8s the yard, along with £6 sterling, a gown for her husband and a further gown described as 'furred with sox for the labours and paynes she has taken with me'. His sisters, Joan and Agnes received six yards of woollen cloth at three shillings four pence per yard and ready money of twenty shillings sterling. Further clothing bequests were made to Thomas Dobynson, Thomas Hardwicke, James Mathewson and Sir Thomas Fludd. Lound's godchildren each received 3s 4d, while he granted his apprentices a black gown and twenty shillings each. He bequeathed the remainder of his goods towards paying any remaining debts and funeral expenses. He named his brother and his stepson as his executors.
Lound's surviving will makes no reference to the properties that subsequently came into the possession of The Clothworkers' Company. It is most likely that a further will relating to his property was proved at the Court of Hustings, but has not survived. It does appear, however, that Lound instructed the Company to hold an annual obit in his name at St. Martin Outwich, as part of the conditions of his property bequest.[3]  
[1] TNA PROB 11/23, Will of Stephen Lound, 4 April 1528.
[3] The Clothworkers' Company Archive, Book of Deeds and Wills,CL/A/ 4/4,  f. 3r, Stephen Lound's obit.