William Franckland (d.c.1567), Citizen and Clothworker, bequeathed property in Thames Street to The Clothworkers' Company. Franckland was elected Quarter Warden of the Company for the year 1560 to 1561, but was never Master.[1] During his tenure on the Court, he participated in numerous Company activities, including property viewings in Fleet Lane and Waltham.[2] Franckland lived in the Rye in the parish of Stansted Abbot in Hertfordshire.[3]  He was originally from Yorkshire, with several references to family in the area in his will. His wife, Margery, predeceased him. They had two sons, William and Henry and a daughter, Joyce. He had two sisters, Agnes Whitfield and Alice Pott, and a brother, Richard Franckland. He appears to have had a strong relationship with his nephew, Hugh Franckland, to whom he made several bequests. Franckland left instructions that he should be buried in the churchyard of the parish in which he happened to die.
During his membership of the Company, Franckland took on only one apprentice, William Sutton, who subsequently became a Freeman in 1572.[4] Much of his working career focused on the cultivation of his lands in Hertfordshire and Essex, from which he became involved in trading activity. In 1557, the Court of Aldermen of the City of London granted William Franckland a licence to sell wheat, which he had imported from Danzig, while on the 29 July, a further licence was granted to enable him to transport this to Calais.[5] This mercantile activity is further evidenced in the Port Books for 1568, where William Franckland was noted to have imported flax from Danzig, and paid eighty pounds in duty.[6]
F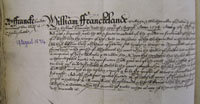 ranckland also had significant landholdings in both the London and Yorkshire areas. However, much of Franckland's will concerns the division of the lands he held in Hertfordshire and Essex amongst his sons and his nephew. His son William Franckland, received his property in Rye, which included lands in 'Stansted Abbott, Theyll Hoddesdon, Broxborne, Aunwell, Ware, Bengowe, Thunriche, Woodford, Hertford and Essex', for the term of his natural life.[7] From these lands, William had to pay his brother, Henry, an annuity of twenty pounds per annum and his aunt, Agnes Whitefield, an annuity of ten pounds.[8] On the death of William, Franckland instructed that the lands should pass to his nephew Hugh, the son of his brother Richard. Franckland bequeathed his lands in the Manor of Bloberhouse, Yorkshire to his brother Richard and his nephew, Hugh Franckland had extended his landholdings by lease during the 1560s.[9]
In 1562, Franckland took a lease from The Clothworkers' Company of Davy Proute's lands in Waltham.[10] Proute had left his lands in trust to the Company, to be managed by them until his son Saloman came of age to inherit. In the interim, the Company regularly viewed, maintained and leased the property. William Franckland and his nephew, Hugh, became the longstanding tenants of the lands, undertaking to keep them in good repair during the tenure of their lease.[11]
In his will, William Franckland bequeathed two tenements in Thames Street, near Friar Lane, in the parish of All Hallows to The Clothworkers' Company.[12] He left specific instructions that from the rental income, the Company should use twenty shillings to purchase coals for distribution amongst the poor of that parish on the feast of All Saints. This had been the intention of his late wife, Margery, Furthermore, he instructed the Company to pay three pounds a year to the poor in Somerscale, Heslewood and the Storys in the parish of Skipton in Craven, Yorkshire, where his family lived.[13] He appointed his son, William and nephew, Hugh as his executors.[14]