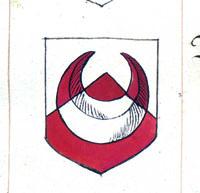 Thomasine Evans (d. 1596), widow, bequeathed property in Crutched Friars (in the parish of St. Katherine Coleman) to The Clothworkers' Company. Thomasine was the wife of John Evans, Citizen and Clothworker, who died c.1570. They had no children. She lived in the parish of St. Mary Abchurch, Candlewick, where her husband John was cessed in 1549 at £155, while she was cessed at £60 in the same parish in 1582.[1] Thomasine may have originally been from Newcastle, where she lists many relatives as resident in her will, dated 11 October 1596. In this, she expressed  her wish to be buried in the parish church of St. Mary Abchurch, London, where she lived.[2]
Thomasine's husband, John Evans is recorded within the Company's Apprenticeship and Freedom registers as Master of up to thirteen apprentices. Between 1546 and 1571, fourteen apprentices took their Freedom by servitude with a John Evans as Master.[3] Whether this was Thomasine's husband, or another John Evans, is difficult to ascertain;  four John Evans had gained their Freedom of the Company in in 1557, 1562, 1564 and 1567. Interestingly, Thomasine Evans was herself acknowledged as Master/Mistress of three apprentices: Thomas Ap Ethell in 1565; Robert Gosnall in 1584 and Richard Tolett in 1592.[4]
Thomasine gained much of her wealth through her marriage. In his will, John bequeathed significant lands in the parishes of St. Mary Abchurch, St. Lawrence Poultrey and St. Katherine Coleman to his wife.[5] These included the tenement in which John and Thomasine lived in the parish of St. Mary Abchurch, a tenement and lands purchased by John from Richard Palady in the parish of St. Lawrence Poultrey and a tenement, garden and new buildings in the parish of St. Katherine Coleman.[6] Thomasine was to hold the properties for the duration of her life, after which time they would pass to a number of John's extended relatives.[7]
In her will, Thomasine bequeathed her own property at Crutched Friars to The Clothworkers' Company.[8] It is probable that Thomasine gained these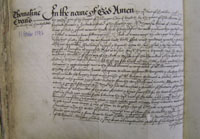 properties through bequests from her own family, or that she may have used the profits issuing out of the properties the John had granted her to purchase further properties in the City of London. Her property at Crutched Friars comprised five tenements with sheds and gardens, all of which were leased at the time of the bequest to several tenants. From her bequest, Thomasine instructed the Company to choose eight poor widows of fifty years and above, who lived in the parish of St. Mary Abchurch, to receive one gown and a collar to the value of twenty shillings.[9] This condition had to be fulfilled every two years. She gave further directions that the Company provide thirty sacks of coal to the poor people living in the parishes of St. Mary Abchurch and St. Katherine Coleman on the last day of October, 24 December, and ten days before Easter each year.[10] Thomasine instructed her executors that if the Company failed to fulfil these conditions, the bequest would become void and the properties should be transferred to The Drapers' Company. Thomasine also granted The Clothworkers' Company £10 for a dinner. [11]
Thomasine also bequeathed a significant number of properties to numerous individuals in the course of her will. Recipients included Christopher Gaylor, Master of The Clothworker's Company in 1607, who received a tenement and garden; Henry Billingsley, a City Alderman, who received stables, haylofts and commodities in the parish of St. Katherine Coleman and Henry Chapman, her brother, to whom she bequeathed further gardens, mills and stables. Through her will, Mrs. Evans also established exhibitions for scholars at Oxford and gave £10 to Christ's Hospital, gave monies to the King's Bench prison and the Marshalsea, as well as £6 13s. 4. to the poor of Candlewick ward. [12]