Thomas Dixon (d.c.1574), Citizen and Clothworker, bequeathed monies to Christ's Hospital and The Clothworkers' Company to purchase lands, from which they would share a portion of the rental income. The estate purchased was in the New Cross area.  Little is known of Dixon's life. He appears not to have been married, as no wife, or indeed, wider family members are mentioned in his surviving will.[1] No records of his Freedom appear in The Clothworkers' Company's registers of Freedom Admissions, and he is not listed as a Master of any apprentices either. He did, however, appoint two Clothworker merchants, William Lambe and Sir Rowland Hayward, as his executors, suggesting that much of his wealth probably came from mercantile activity. He was a Governor of Christ's Hospital and sat on the Hospital's Court for twenty-four out of forty-three sessions in 1572-3 and twenty-two out of fifty-eight sessions in 1573-4. He also acted as a recognisor in 1566 for £350 in the Court of Orphans. [2] He was buried in the parish church of Saint Alphages, as he had wished.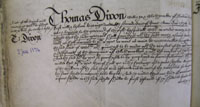 In his will, Dixon made a series of bequests to institutions, friends and godchildren. The bulk of his will concerns his directions to Christ's Hospital and The Clothworkers' Company. He instructed they should purchase lands to the value of £250 and with an annual income of at least ten pounds. He initially granted the money to Christ's Hospital, with the proviso that the purchase had to be consented to by the Clothworkers and his executors. From the ten pounds income, he stipulated that six pounds should be spent on finding and maintaining a scholar from Christ's Hospital at university. The remaining four pounds was at first to be used by The Clothworkers' Company to pay off their debts and then be distributed to the poor of the Company at twenty shillings per person. If the rental income should exceed ten pounds a year, Dixon requested that the extra monies should be divided between The Clothworkers' Company and Christ's Hospital.
Further bequests to Christ's Hospital included forty pounds to be used to build up corn stocks, so the poor children could be served sweet bread. If the stock was not employed on corn within fifteen days, Dixon requested that it remain at Clothworkers' Hall. Dixon made further bequests of gold rings, money, silver and household goods to a wide range of friends and his godchildren, including prominent Clothworkers such as Rowland Hayward, William Lambe and John Browne.
[1] TNA PROB/11/56, Will of Thomas Dixon, 20 July 1574.
[2] M. Benbow, Notes to index of London citizens involved in City government, 1558-1603, unpublished, p. 281 – 282. The Court of Orphans, developed as sub-committee of the Court of Alderman. Barbara Megson has explained how 'it dealt with the property and upbringing of the young children and widows of their freedom who had died. The Court enrolled the details, nominated a legal guardian, together with two suerities, who held the orphan's property until its owner reached the age of 21, or completed an apprenticeship, if this took longer. An orphan girl could marry and receive her portion early, but only with the consent of the Mayor and Alderman'. (B. Megson, 'Life expectations of the widows and orphans of freemen in London, 1375-1399', online, available: http://www.localpopulationstudies.org.uk/PDF/LPS57/LPS57_1996_18-29.pdf [accessed: 7 January 2013]. Thomas Dixon acted as one of the suretors (recognisors) for monies to the value of £350, which were held by the Court.