Oliver Claymond (d.1540), Citizen and Clothworker, made four separate property bequests to The Clothworkers' Company in Cornhill (in the parish of St. Michael), Mark Lane (in the parish of St. Olave), Abchurch Lane (in the parish of St. Mary Abchurch) and St. Nicholas Lane (in the parish of St. Nicholas Acon) in 1540. Claymond had strong ties to the Company. He served as Master from 1530-31 and 1531-31, the only member to have served two terms in the post.[1] It is believed he served as Renter Warden in the year 1528-1529. His involvement with the Company thus spanned the period of amalgamation between the Fullers' Company and Shearmen's Company and he could therefore be described as one of the Clothworkers founding fathers. Claymond appears to have accrued significant wealth through his activities as a merchant adventurer. This enabled him to invest in numerous London properties. Outside The Clothworkers' Company, Claymond had many London interests, including acting as a churchwarden in the parish of All Hallows Staining. He died, in 1540, and in accordance with his wishes,  was buried in his parish church.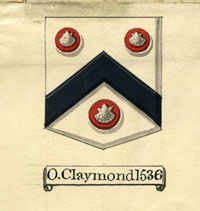 Claymond was married to Agnes/Anne, the daughter of John Saunders, a Draper. They had two daughters – Isabel and Thomasine. Isabel married John Clerke, Clothworker, while Thomasine was married twice; firstly to Richard Hawkins and secondly, to John Payne. Both of Claymond's daughters are frequently mentioned in the Court Orders of The Clothworkers' Company. Following Oliver's death, Isabel and her husband John Clerke disputed the title of the Company to his properties, claiming an interest for themselves. In 1542, the Company agreed with Clerke and Isabel that they should surrender their rights and titles to the lands bequeathed. They agreed to pay an annuity of five pounds to the couple for the term of the life of the longest liver of them.[2] Thomasine is noted frequently in the records as the recipient of an annual annuity from her father's estate, and is also recorded as a widow and almswoman at Whitefriars in 1574.[3] Following Claymond's death, his wife Anne married Cornelius Hayes, Citizen and Goldsmith. She died on 25 May 1550, and was buried in the church of All Hallows, Thames Street.
In his will and its codicils, dated 28 February 1540, Claymond gave instructions for the future of his properties. He appointed his wife, Anne, as sole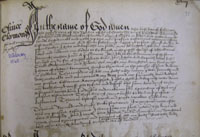 executor, and granted his lease of a property in Shoe Lane at St. Andrews in Holborn to his daughter Isabel and her husband, John Clerke. He bequeathed all his other properties, including those in Cornhill, Abchurch Lane, St. Nicholas Lane and Mark Lane, to his wife Anne for the duration of her life, after which they were to pass to The Clothworkers' Company. The Company, in return, were expected to pay an annuity of four pounds to his daughter, Thomasine,  and to fund a Pascal light and sepulchre at Easter and four staff torches and twenty four other torches on the feast of Corpus Christi in the church of All Hallows Staining.[4]